One thing that never fails to surprise us is how complicated and confusing the shipping industry can look to first time importers.
At Shippo, we know just how easy importing goods via sea freight can and should be. However, the vast majority of shipping companies are very old fashioned in their approach to quotes. This can overly complicate the process of importing goods and add what we feel is an unnecessary complexity to sea freight.
Importers can so easily miss something and end up paying hidden and unforeseen costs when their final invoices arrive.
In fact, it was this exact issue that prompted the start of Shippo and encouraged us to base our core values on providing customer service and enhancing the customer experience.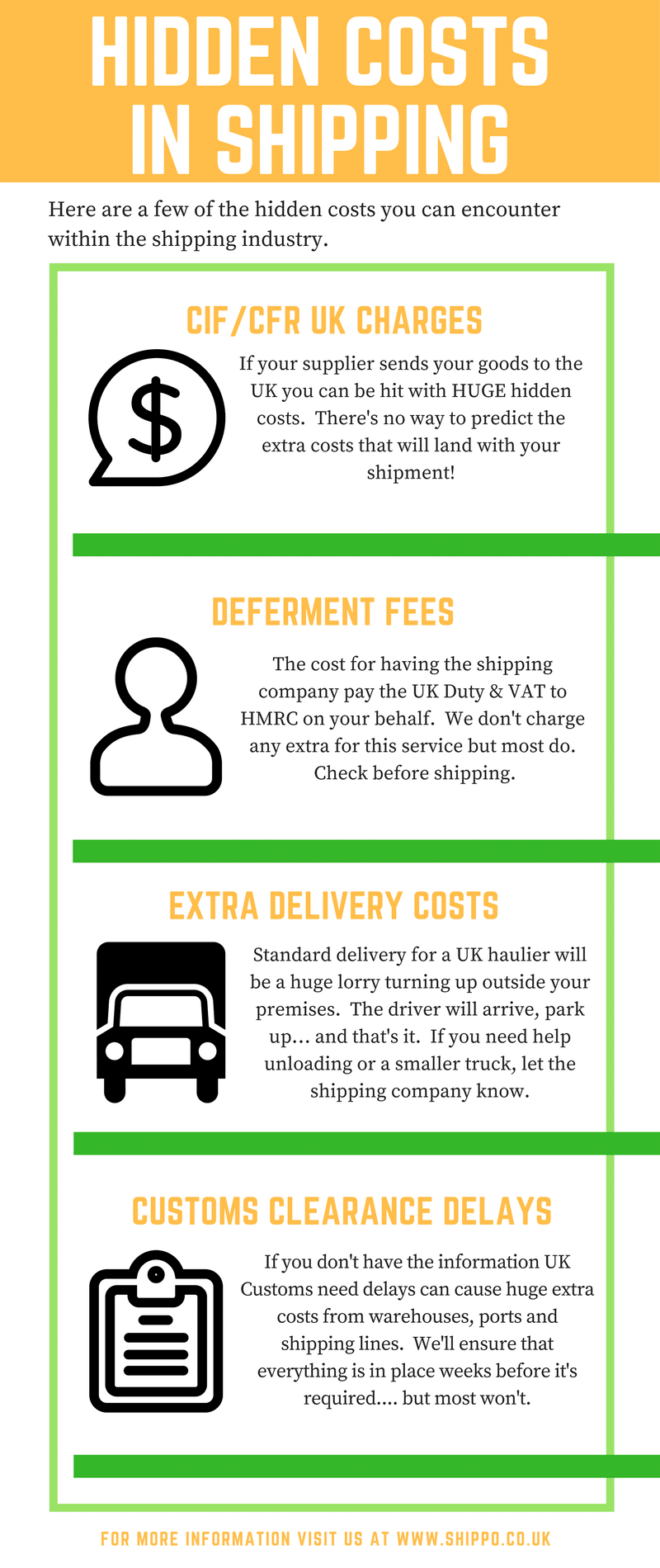 To help first time importers, or even just people that are researching around the topic, we decided to write a comprehensive list of the hidden costs within shipping. Unfortunately, we can't account for fees individual companies or people may add on – but the hidden charges that you are most likely to encounter are all listed below.
Save
Save
Save
Save
Save
Save
Save
Save
Save
Save
Save
Save
Save
Save
Save
Save
Save
Save
Hidden Costs Explained

Imagine if you'd agreed a price and put down a deposit for a chair to be made in the UK. When you go to pick it up and pay the rest, the shop tells you that, because they drove further than expected to get the wood, they've doubled the price – and the deposit is non refundable. If they then told you that because they paid for the wood in advance this came with a surcharge too, we're sure you'd be livid. With sea freight, this can happen if shipping companies aren't pinned down – so it's very important to know exactly what it's going to cost you to have your goods shipped, cleared through customs and delivered to your door.

So what hidden costs do you need to watch out for?

There are two types of hidden costs; importers should understand both:

Costs that you will definitely pay but you don't know about.
Costs that there is only a chance you'll have to pay. (Usually only if the shipment doesn't go smoothly.)

Foreseeable Hidden Costs

The first type of hidden costs are the ones that we really take offense to!

If you are arranging a shipment and you'll have to pay a particular cost, then you should know about it before you start – you're running a business, after all. To know what to charge for your product or service you need to know what it's going to cost you (with no hidden costs to eat into your profit!).

Foreseeable hidden costs in shipping include:

Charges if your supplier sends your goods to the UK

Having your goods sent to a UK port, (aka CFR or CIF shipping terms) can seem like the easiest and cheapest way of importing goods – however, in actuality it's the riskiest. There's no way to predict the final fees that will land at your feet due to inefficient cost management. We've explained all the hidden fees in CIF/CFR shipping here.

We've spoken in detail about the hidden costs of CIF shipping before – and we recommend that you read that post in more detail – but if we're talking about hidden costs in shipping, we definitely couldn't leave out one of the largest and, thankfully, easily avoided hidden costs.

If you're shipping under CIF terms, your supplier has a responsibility for your shipment and it's costs until your goods touch down in the UK . . . however, this doesn't mean that you aren't going to be footing that bill. In fact, what commonly happens is that all the costs you think your supplier has taken care of are actually pushed onto your UK bill as inflated and unusual extra fees. Considering the fact that most importers don't expect this massive cost to be thrown at them, this can a debilitating hidden fee.

Deferment – the cost to help you pay UK Duty & VAT

The most frequent of the hidden costs is deferment. This is the cost for having the shipping company pay the UK Duty & VAT to HMRC on your behalf, before billing it to you directly.

Here at Shippo, we think it's a pretty extortionate thing to do – so we don't charge any extra for this service.

Be careful if using another company, however, as deferment can often be charged as a percentage – so it can become a huge extra cost. We recently quoted for a shipment where the customer had previously been stung with a deferment bill that was bigger than that of the actual freight costs!

Most shipping companies quote based on a 'standard delivery'; the thing is, this may not be exactly what the importer thinks of as 'standard'.  A problem that can lead to costly misunderstandings.  A standard delivery for a UK haulier will be a huge articulated vehicle turning up outside your premises.  The driver will arrive, draw back the curtain on the side of the truck – and that's it.  It's your responsibility to unload the truck.

Most importers don't expect this as the only deliveries that they've received have been parcel deliveries, where the driver brings the boxes to your door, or a removal company, where at least two men bring your new sofa or other furniture into your house and put it in place for you.

If you want a tail-lift to lower your pallets to the floor, or a small truck because your road is not very easy to get into, then ask!  If you don't, and the driver can't get to you or you can't unload the shipment from the truck then you may be charged for a missed delivery!

UK Duties (including anti-dumping duty) and Import VAT

Every importer will have to declare their goods to UK Customs.  There's no excuse for not knowing how much you'll have to pay to have your goods released into the UK.  If in doubt, ask HMRC directly, they allow importers to email them to ask about the duty codes for their products.  Here's some more information on UK Duty and VAT; if in doubt, give us a call!

Don't be caught out by not having what you need for UK Customs!  Here at Shippo, we'll ensure that everything is in place for you weeks before it's required…. but most companies won't.

If you don't have the information that UK Customs need to allow entry, then you can be hit with huge extra costs from warehouses, ports and shipping lines.  Don't stick your head in the sand until it's too late! (Make sure your goods are able to clear UK Customs as quickly as possible.)

Save

Save

Save

Save

Save

Save

Save

Save

Save

Save

Unforeseeable Potential Costs

A few hidden fees can come about as a result of a bit of bad luck, or a customs inspection.  These surprise costs that spring up from time to time are unavoidable, but you should know where they can arise.

When buying goods on Exworks shipping terms you are accepting more responsibility than on FOB shipping terms.  If your supplier makes a mistake on their local customs declaration, then you can be liable for extra costs that arise as a result.  Also, the local customs in the country of origin can request an inspection of your goods and this inspection can cost you extra.  This cost varies on the outbound port and type of inspection.

When your goods land in the UK, they are declared to customs.  If one of the authorities, such as Border Force, Trading Standards or Port Health, show an interest in your shipment then it can cause a delay.  The vast majority of products imported to the UK are done so legally and are free to be imported, released and distributed within the UK – to make sure that legal and safe products stay the majority, customs may choose to randomly inspect your goods.

If your goods are put on a customs hold, then they can be X-Rayed (you'll be charged for this), held for a documents check, or physically inspected.  Although this is fairly rare, the port, the shipping lines or the warehouses who have the goods sitting within their space can charge extra for the use of their floor space whilst customs check your goods.  You'll normally have 7 days of free time from these companies, but past that the storage, port rent or demurrage can be steep.

Unfortunately, costs that arise from customs inspections are a risk of importing goods.  You may not be able to avoid them if customs take an interest in your shipment but you should certainly be aware of their existence.

Save

Save

Save

Save

Save

Save

Save

Save

Save

Avoiding Hidden Costs

To avoid these nasty surprises we have two simple tips:

Tip 1: Use FOB shipping terms.

FOB shipping terms allow you to control your costs; when arranging the shipping on FOB terms, unexpected or hidden fees are visible/avoided from the outset. These can include problems with export licenses (a possible Exworks issue) or handover charges (a possible CIF issue).

 Tip 2: Ask whoever ships your goods to confirm that you won't pay a penny for anything they've not quoted for!

This is so important.  If a company won't make it completely clear that their quote includes all the foreseeable charges then you may want to rethink your decision to use them.

If the goods land and they say "and you'll also need….." it's too late.

Tip 3: Ask Shippo – We're on your side, even if you don't use us for your shipping!

We always give prices that include every foreseeable cost to get the goods to and from your desired origin and destination.  We understand that you may not be using our service but just need a bit of help.  Feel free to call, we'll be happy to help where we can.  We understand that shipping goods from the other side of the world can be daunting.

We can even help you establish anty other costs you'll have to pay.  We can help you calculate the duties and taxes you'll have to pay and with the value of your goods we can give you a separate price for the insurance.

We hope you found this post helpful – and that you're now aware of how to find the real cost of importing. If you'd like an accurate quote, or want some extra advice on dodging these bullets feel free to contact us!