If you're wanting to import clothing to sell in the UK, you may have encountered a few issues along the way. Typically, Chinese suppliers aren't particularly well-known for their high quality products and attention to detail – so buying clothes from across the pond can be fraught with difficulty. From misprinted slogan tees to thin, flimsy fabric . . . if you aren't careful, importing clothes from China and other countries can be fraught with issues.
Today, we're comparing two different different online markets for buying clothes from overseas manufacturers.
First of all, we have the well-established Alibaba; Alibaba is the world's largest B2B marketplace. There is a large variety of merchants and products on there – pretty much anything you could want to import, you can find on Alibaba. While this includes clothing and apparel, Alibaba doesn't specialise in clothing . . . which is where our second contender comes in.
Bambify is a new-to-the-scene startup market that is specifically for clothing and apparel; it hosts a curated (and pre-vetted) selection of clothing manufacturers from across the world. While Alibaba has a far more vast variety, Bambify has a very carefully curated and quality tested selection.
However, which marketplace is best for the start-up business? Let's pros and cons it!
Alibaba Pros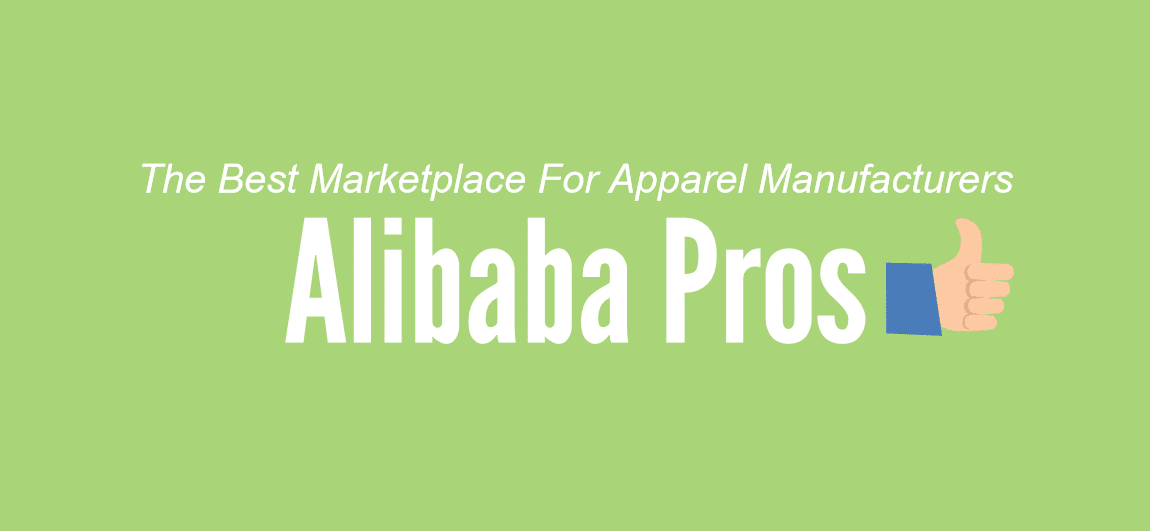 Far more selection in products and suppliers

Alibaba is a massive marketplace and the sheer variety in products is incomprehensible. From glitter to animatronic dinosaurs, you can find pretty much anything on Alibaba. This variety also applies to clothing; you can find (or ask a supplier to create) pretty much anything that you can think of. This means that the sky is the limit!

Older marketplace

On top of the selection of products, the fact that Alibaba is an older marketplace means that it's much more trustworthy and easy to use. As Alibaba is such an established marketplace, it has had the time to iron out any kinks in the process and flesh out the platform with a range of useful features. On top of this, due to it's popularity, there's an abundance of information about using Alibaba available at your fingertips; tutorials, tips and reviews are abundant all over the internet to help you out.

Security

As Alibaba is an older and therefore more developed platform, there are a lot more features and filters that are available for you to use. This not only helps you to narrow down high-quality suppliers, it also offers you more ways to securely pay and insure your goods. Things like Alibaba Trade Assurance offer you protection on your payments in the case that anything does go wrong.

Easy to avoid scammy suppliers

We've written an entire post on how to avoid scams on Alibaba – but, spoiler alert, it's pretty easy. Alibaba have a lot of built-in safe-guards and filters that you can use to make sure that you're only dealing with legitimate companies.
Bambify Pros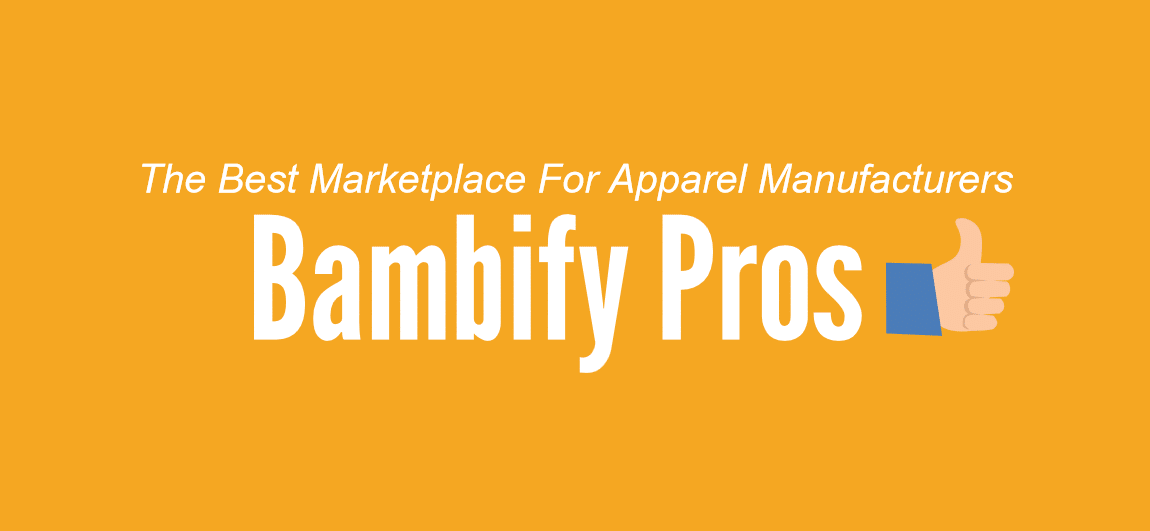 Startup friendly and lower MOQ

Bambify is a marketplace specifically aimed at start-up businesses – this is very beneficial as it means MOQs (minimum order quantities) are much lower than they might be on Alibaba. A minimum order quantity is the lowest amount of a product you need to buy; as a small or start-up business, needing to buy 2,000 of a product can make it financially not viable.

Rating System

Bambify have a rating system that allows you to see how other people rated their experience with a supplier. This offers you the opportunity to ensure that you're working with a supplier that provides a good experience before you commit to using them.

All of the clothing is guaranteed to be high-quality

As Bambify manually verify and curate manufacturers, there is a level of assured quality that comes from buying with them; you don't have to worry about scams or quality control. This is a massive relief as most of the leg-work when ordering from China is ensuring that the factory you're placing an order with is going to produce high-quality results. Bambify take care of that step for you, which can save you a massive amount of time.

Suppliers from multiple countries

This is a big one if you're importing clothing! China does not have a good reputation when it comes to producing apparel; Bambify offers you suppliers from countries across the world as part of their effort to guarantee high quality products.
Alibaba Cons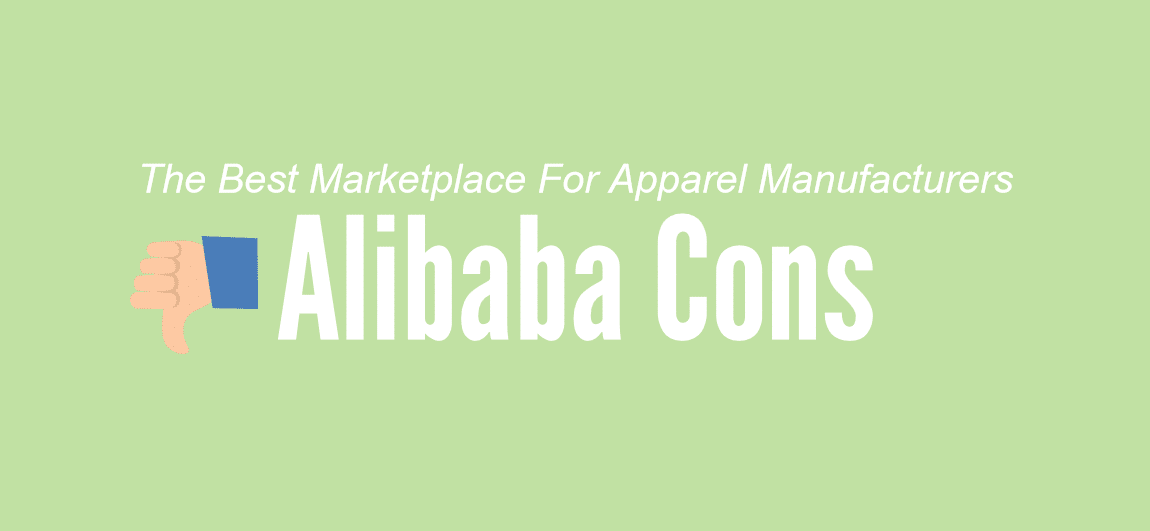 Chinese suppliers have a bad reputation for clothing

Alibaba suppliers are mainly from China – and Chinese suppliers don't have a very good reputation when it comes to manufacturing clothing. This means that finding a high-quality supplier may be more difficult when you use Alibaba; not only do they not pre-vet manufacturers, clothing is a product that is fraught with quality issues. You'll need to do a lot more legwork to ensure that your goods are high quality.

You can't access reviews of suppliers

Although there are ways to filter out "bad" suppliers and you can use preventative measures such as quality inspection agents and ordering samples, what you cannot do on Alibaba is access customer reviews. Unfortunately, outside of forums, there is no way to see how other people found the quality of a supplier or a product.

Alibaba don't quality check and vet all suppliers

While there are some suppliers that pay for their businesses to be vetted and you can check a business's profile to see whether they're a verified business, this isn't standard procedure for Alibaba and factories aren't vetted. This means that, unlike Bambify, you can't just pick any old supplier on Alibaba – you need to do more research to make sure that you're dealing with a reputable trader.
Bambify Cons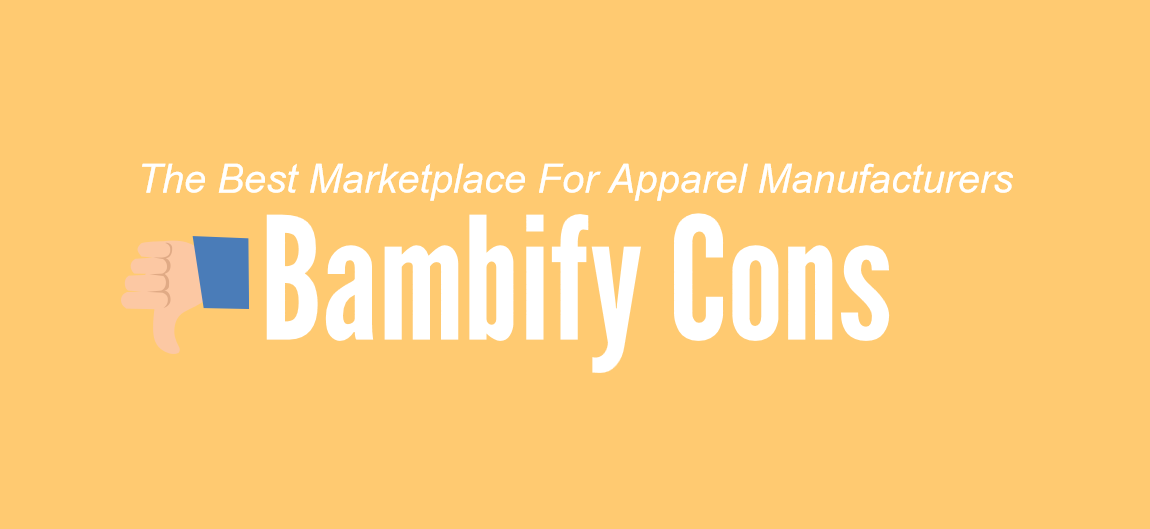 Bambify is new

As Bambify is a new platform, it hasn't built up the trust and experience that Alibaba has. Not only is the platform far less feature heavy, Bambify could also be more prone to bugs and things going wrong.

Lack of variety in factories and products

Bambify's selection of manufacturers and products is very, very limited. This means that if you can't find what you're looking for (and, with the small selection, it's quite likely that if you aren't looking for very standard items you won't be able to find a supplier) you're out of luck. You can, however, send suppliers your custom designs and see if they're able to create them for you.

Not many people have used it; hard to find reviews

Another issue with Bambify's newcomer status is simply that, apart from a recommendation from the very-trustworthy Shopify, they don't have many references. There are testimonials on the website, but aside from that it is hard to find reviews from Bambify. As a start-up possibly investing your life savings into your product, it can be hard to trust a site with no reviews.

Hard to verify supplier trustworthiness

Although Bambify pre-vet suppliers, a cautious importer may want to be able to do more research themselves. While Alibaba offers detailed supplier profiles with all the information you could ever need about a factory, Bambify's supplier profiles are much more minimal. They don't offer the same levels of security as Alibaba does, (verifications services, live factory videos, etc.) all of which can make it hard to verify that suppliers are trustworthy.
All in all, both platforms are good marketplaces to find suppliers for clothing overseas. We hope you enjoyed this post, learnt a little about the various B2B marketplaces out there and are successful with your trading! If you want to learn more about the international shipping process and require some help (or a free quote!)