We'd recommend that importers take a note of the major Chinese holidays and set deadlines in your calendars, so that you aren't caught off guard.
The largest of these festivals is undoubtedly Chinese New Year. This means that your goods and their production can be disrupted for weeks. To help minimize the damage, we've created an informative little guide to Chinese New Year for importers that you can use to make sure that you're aware and prepared.
The dates you need to know.
This year, we expect Chinese factories to be closed for business from the 20th of January until the 6th of February. (At a minimum.) To be safe, we'd suggest that your goods would have to be ready for the week of the 9th-13th in order to catch a vessel from any of the major ports although most will be accepting goods early the following week.
What Is Chinese New Year?
Chinese New Year is the most important annual event for the Chinese. It is rich in tradition with over 4,000 years of folklore and history. Also commonly known as the Spring Festival, Chinese New Year nowadays is a time to spend time with families. People celebrate it to celebrate a year of hard work and to wish for a luck and prosperous coming year.
There are many exciting traditions that are typically used when celebrating. Here are a few of the most common:
Eating lucky foods such as fish
Setting off firecrackers
It's a brilliant celebration – it is also the world's largest annual human migration. Over a billion people board planes, trains, boats, buses, and cars. This is known as Chunyan. If you'd like to learn more, check out these 50 fun facts about Chinese New Year.
What happens during Chinese New Year?
During Chinese New Year, your manufacturers and their factories will come to a stop.
No new orders will be accepted.
Production and sample development is halted 1-2 weeks before Chinese New Year. (Not always in your suppliers control; sometimes the factories that supply them with their products and materials may close early, which disrupt the entire supply chain.)
Production is halted for at least two weeks after Chinese New Year. The holiday itself only lasts for 5 working days and a weekend; however, most factory workers do not work in their home province – which means that they migrate home for the Chinese New Year. Many opt to stay in their home provinces for an extra week or two on top of the holiday. Naturally, this delays production time as the factories can't simply get back up and running. In addition, often as much as a third of a factory's workforce will – unannounced – decide not to return to work after Chinese New Year. This means that factories also have to find and hire new workers – all of which takes time.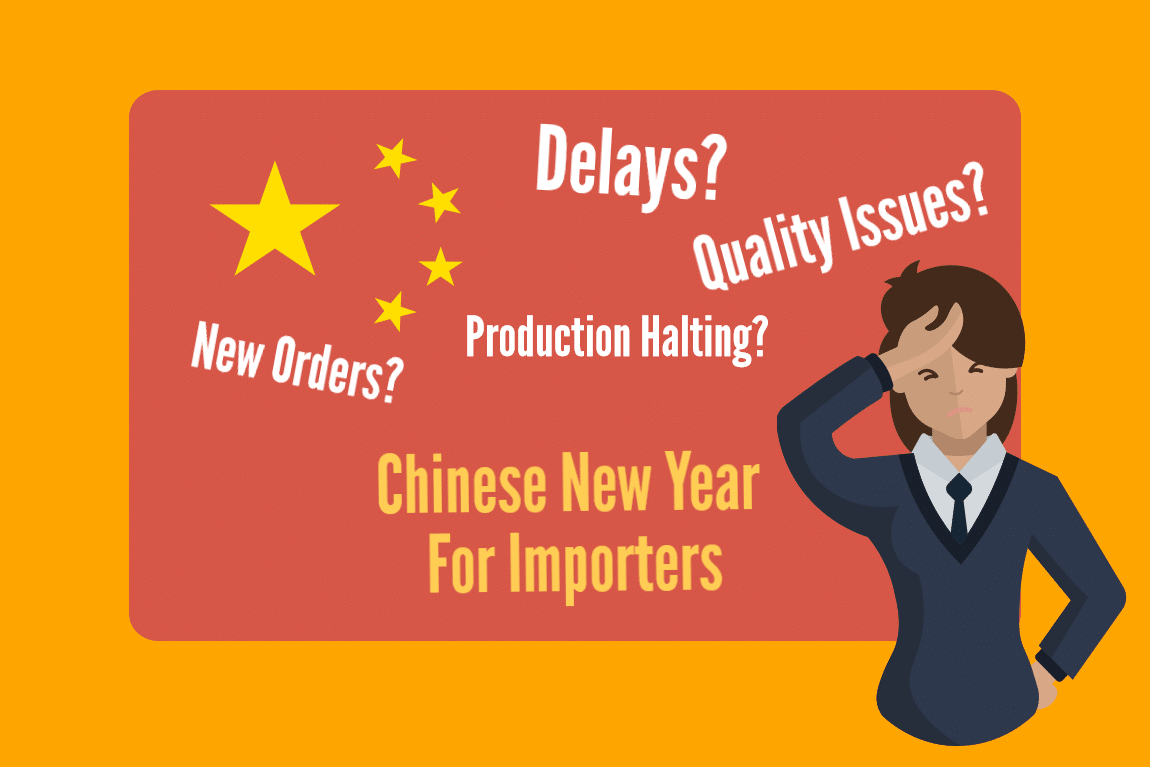 Another thing to take into consideration:
Quality drops. Straight after Chinese New Year, there is often a significant quality drop. There a variety of reasons that this can happen.
As we've already mentioned, often as much as a third of a factory's workforce won't return to work. Not only does this increase delays – it can also significantly affect quality. The new recruits will often be untrained and learning; this can lead to products that aren't up to usual standards.
However, another reason is pure demand. Remember – all importers face these logistical issues. This means that the Chinese factories rack up a large backlog of orders from early December onward – which stretches supplier's capabilities to a maximum.
Unfortunately, there will be suppliers who just use Chinese New Year as an excuse to be lazy.
What can you do?
You should also plan to order at least three weeks prior to Chinese New Year. If you do, containers should be at the port by the second week of January.
Consider shipping by air if you have a strict deadline from a retailer or are running out of stock. Paying for stock expensively might be better than having no stock at all. Don't leave that decision for the last minute: flights just before Chinese New Year are often overbooked and carry a higher premium . Consider non-direct flight options and makes sure that your connection is outside of China.
Be vigilant when checking order quality. Consider using a third party service and make sure to manually look over your shipments.
What Other 2017 Dates Do I Need To Be Aware Of?
2017 Chinese National Holidays
Chinese New Year: January 27th-February 2nd
Qingming Festival: April 2nd-April 4th
Dragon Boat Festival: May 28th-30th
Mid-Autumn Day & National Day (Dates Overlap In 2017): October 1st-October 8th
These are the main things about Chinese New Year that importers have to know. If you'd like to know more – or how Chinese New Year may affect you – feel free to contact us and ask! Don't forget to follow us on social media for more updates!