Cazami Cat Exercise Wheel
One of our most charming success stories is the Cazami Cat Exercise Wheel. When cat-lover Nicola Hayes bought her first Bengal house cat five years ago, she realized that she needed a cat wheel to give it exercise and entertainment  – and despaired at not being able to find one .
"I soon found there was very little choice in the UK; they were either handmade and very expensive so out of my budget, or they were bad quality with discouraging reviews.  So I extended my search around the world, looking at design, quality, price and, above all, safety. 

In September 2015, I discovered a brand new cat wheel – Ferris Cat Wheel in Malaysia – and then quickly found out they didn't ship to UK due to high costs involved. After contacting the manufacturer and pleading my case, he agreed to ship to me. I was thrilled with the cat wheel! My now 4 Bengals loved it; it kept them active, mentally stimulated and amused, so I no longer felt guilty about keeping them safe indoors. They were happy and content.  I decided that we had to have them here in the UK to enrich the lives of other indoor cats and I would look into importing them and becoming the UK Distributor."
Fortunately, Nicola found us and we were able to help her achieve her goal.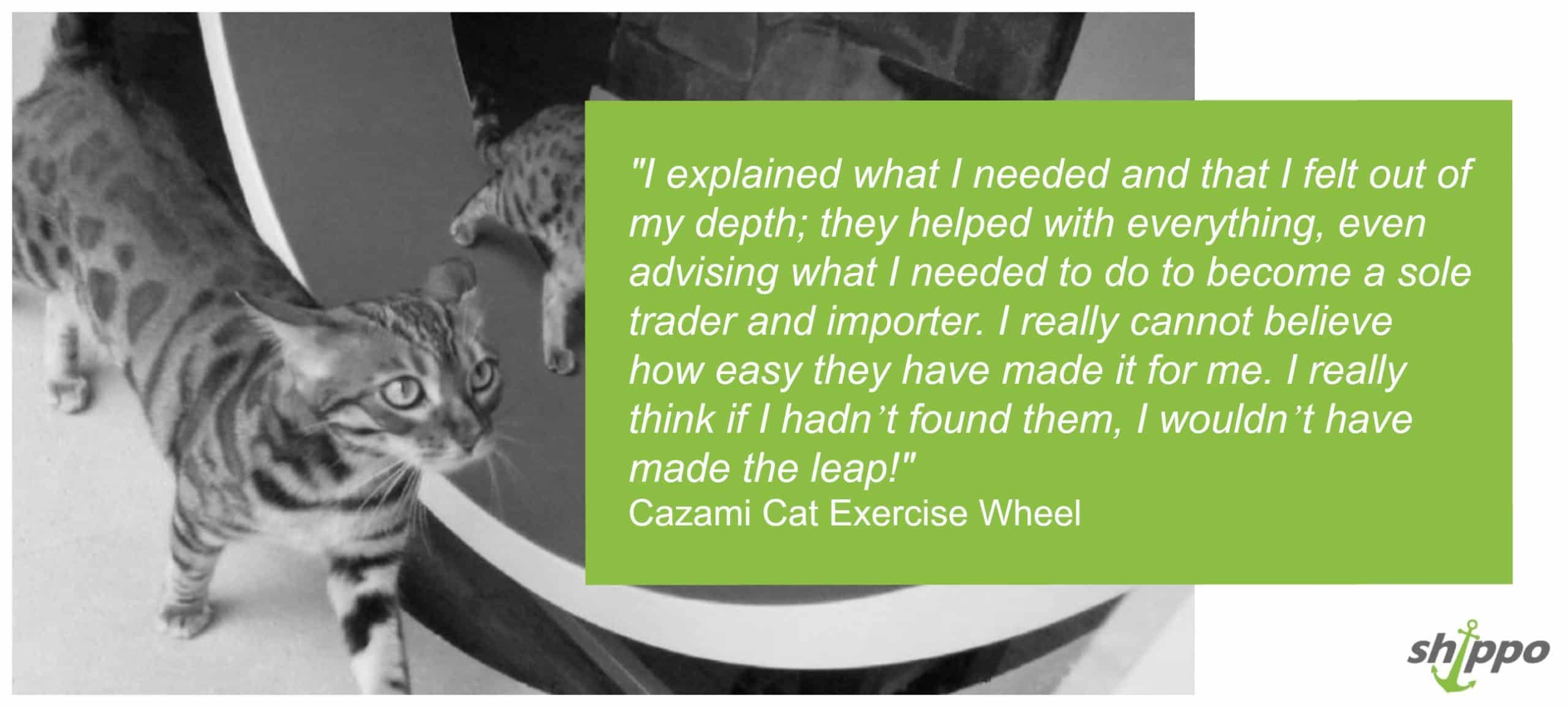 Why Shippo?
"I had no experience in business and really didn't know where to start. I emailed a few freight forwarders and shipping companies; most didn't reply and those who did either weren't interested in only shipping 20 cat wheels, or made me feel confused and overwhelmed with shipping terms I had never come across."

Then I found Shippo and read that they can help small businesses with shipping procedures. This seemed ideal and literally within minutes of sending a quote request, I had a reply. I was already impressed.

I explained what I needed and that I felt out of my depth, so they helped with everything – even advising me on what I needed to do to become a sole trader and importer.

I don't have to worry about customs procedures; I leave it all to them. I really cannot believe how easy they have made it for me. I tell them how many wheels I have ordered, they arrange everything for me to my door and keep me informed of the progress! I really think if I hadn't found them, I wouldn't have made the leap"
And now Nicola's Cazami Cat Exercise Wheel is a success!
"The cat wheels have proved to be very popular in the UK, and I have gone on to set up new distributors in Australia and Canada/USA. I would never have had the confidence to do this without the support of Shippo."
You can find Cazami Cat Exercise Wheels here.