What is Amazon FBA?
Amazon FBA is a fulfillment service provided by Amazon. Sellers send their stock to an Amazon warehouse for storage and, when a customer makes a purchase, Amazon will package and ship the goods on behalf of the seller.
Amazon FBA, however, is more than just Amazon shipping your orders out – it's Amazon taking control of your stock. Your goods are now Amazon goods, which means that your market opens up to include Amazon Prime members and any logistics related complaints (like late delivery) won't affect your seller ratings.
The difference between FBA and FBM
Fulfillment is the step in the buying/selling process wherein goods are sent to the customer. When using FBA, Amazon is the service responsible for packaging and shipping your goods to the customer; when using FBM (fulfilled by merchant) the seller is responsible for packaging and shipping the goods. As we've mentioned in our great tips for selling on Amazon, fulfillment is one of Amazon's key rating factors – if using FBM, you have to be extremely vigilant with your fulfillment. Dispatching even a day late can impact your rankings.
Should I use Amazon FBA?
Amazon FBA can be an incredible addition to your business model; if you currently sell on Amazon, it can skyrocket your sales and completely streamline the entire process. However, FBA isn't always the best option. Although it may work for some people, FBA may not fit your needs – so be sure to be aware of the pros and cons of using it so that you can decide if it's best for your business.
The Pros of Amazon FBA
You can get your goods imported straight to an FBA warehouse. This means that you never even have to touch your goods – and makes the entire process far easier!
Access to Amazon Prime customers. Amazon Prime customers tend to filter their searches and only use goods provided by Amazon (after all – why pay for Prime but not use the perks?) which means that using FBA opens up your customer base to this previously unattainable group.
Increase in sales. Most people that utilize FBA see a large increase in sales volume.
More likely to win the Buy Box. We've touched on the Buy Box in our 10 tips for selling on Amazon post, but one of the factors for winning the buy box is your fulfillment. While you can have a high score with FBM, Amazon will give priority to merchants that use FBA to fulfill their orders.
No need to worry about storage space, which enables you to buy more stock if you wish. When ordering stock, storage space is often a concern – for very small businesses, often stock will be held in a spare bedroom or a small space. This limits the amount of stock that can be bought – and the amount of money that can be earned. When using FBA, you're using space in someone else's warehouse – which means that you can purchase more stock.
Can be cost effective. Although it depends on the product, FBA can be extremely cost effective, reducing overheads for logistics, storage and packaging.
It's easy. Once you've got everything in motion, Amazon FBA makes the entire process a lot easier than doing everything yourself.
Feedback protection. Every seller on Amazon knows how important feedback is – it affects how Amazon ranks your business and whether new customers take the plunge and buy from you. With FBA, your feedback is protected by Amazon for things that they cover (such as packaging, damaged in transit, arrived late, didn't arrive etc.) and negative feedback for these things will be removed.
No need to deal with customers. Every business has had to suffer through difficult customers that strongly disprove the theory that "the customer is always right" – but with Amazon FBA, Amazon is responsible for dealing with customers, which means that you don't have to.
Easy returns is a good incentive for customers. FBA makes returns easy, which is a big selling point for customers when deciding whether or not to buy.
You can sell on places other than the Amazon marketplace. For Amazon, using their FBA is a win-win. You're paying them for delivery and storage and they're making your life easier. This means that Amazon are more than willing to provide fulfillment services for you regardless of if you're selling on their platform or not. So you can sell through Amazon and another channel too.
Product protection. If your goods get lost in transit, Amazon will reimburse you.
---
Shippo; Amazon Pros and Cons, What is Amazon Filfilled, what is amazon fba, Should I use Fulfillment by Amazon, fba amazon tips, fba fees amazon uk, trends
---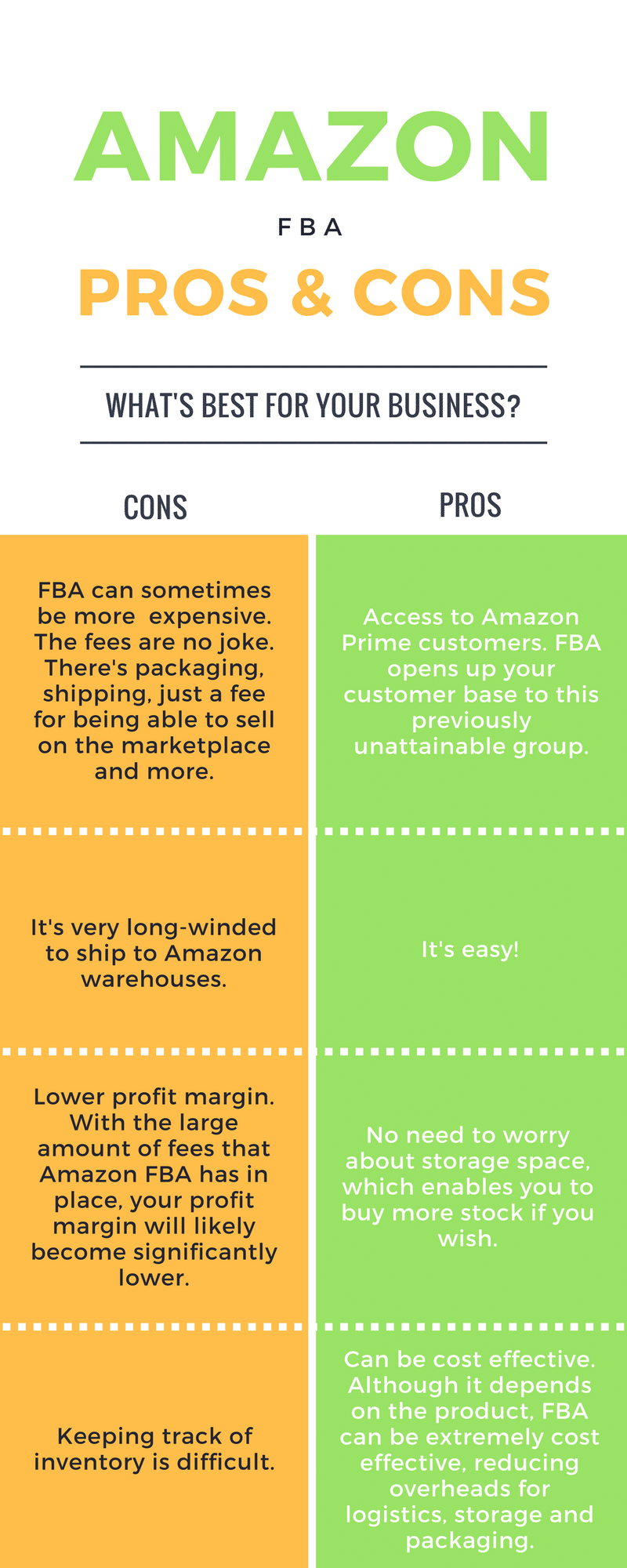 The Cons of Amazon FBA
Can be expensive. Now, the fees for using Amazon FBA are no joke. There's packaging, shipping, just a fee for being able to sell on the marketplace and more.
Storage fees can pile up on stale stock. You can't be expected to know what will sell and what won't – and it's inevitable that at some point you'll be stuck with some stock that just won't shift. The problem is that with FBA you're paying for this stock to be stored.
Sending to Amazon FBA can be tricky. Amazon have multiple warehouses across the country and they often request that your goods get sent to separate warehouses. This alone is difficult – but the standards for labeling are also incredibly strict and have to be adhered to.
Returns increase. The downside to having an easy returns policy is that . . . people will return your goods.
Lower profit margin. With the large amount of fees that Amazon FBA has in place, your profit margin will likely become significantly lower.
Hard to keep track of inventory. Amazon don't notify you when something is returned, or orders are cancelled. It's very easy to lose track of your stock.
Difficult, confusing interface. A common complaint of FBA users is that the interface is incredibly difficult to use/
Not every product is profitable on Prime.
To conclude, Amazon FBA can be a very profitable step up for your business – but you'll need to really assess whether it's the best move. We hope you learned something from this post. If you enjoyed it, don't forget to share and follow us on social media!