When you import goods to the UK, you will have to pay UK Duties and Taxes to Customs before you can get your goods released to you.
We've explained UK Duties and Taxes in full detail before, but today we're going to help you identify one of the key factors that dictates how much this cost will be – your commodity code.
What is a commodity code?
A commodity code is a ten-digit number allocated to goods to classify imports from outside the EU. Every item will fall under a commodity code – and this commodity code dictates your duty rating, as well as alerts you to any import or export restrictions. Your commodity code tells you:
The duty and VAT ratings you'll be charged for your goods
If you can apply for a preferential duty rating (General System of Preference aka GSP)
Whether your product requires an import licence
Whether anti-dumping duties apply
Commodity codes can be found on the Trade Tariff.
Why do I need a commodity code?
When you import goods to the UK, you will be charged duty at customs. This charge is calculated as a percentage of your product's value. Your duty rating directs how much you will have to pay Customs when you import; HMRC requires you to declare your product's commodity code to them in order for them to classify your product and give it an accurate duty rating.
For this reason, it is imperative that you find your correct product code. If you declare your goods incorrectly, then your goods are liable to be held by customs and you'll run into far larger costs and fines than what you would be paying if your goods were correctly declared.
How do I find my product's commodity code?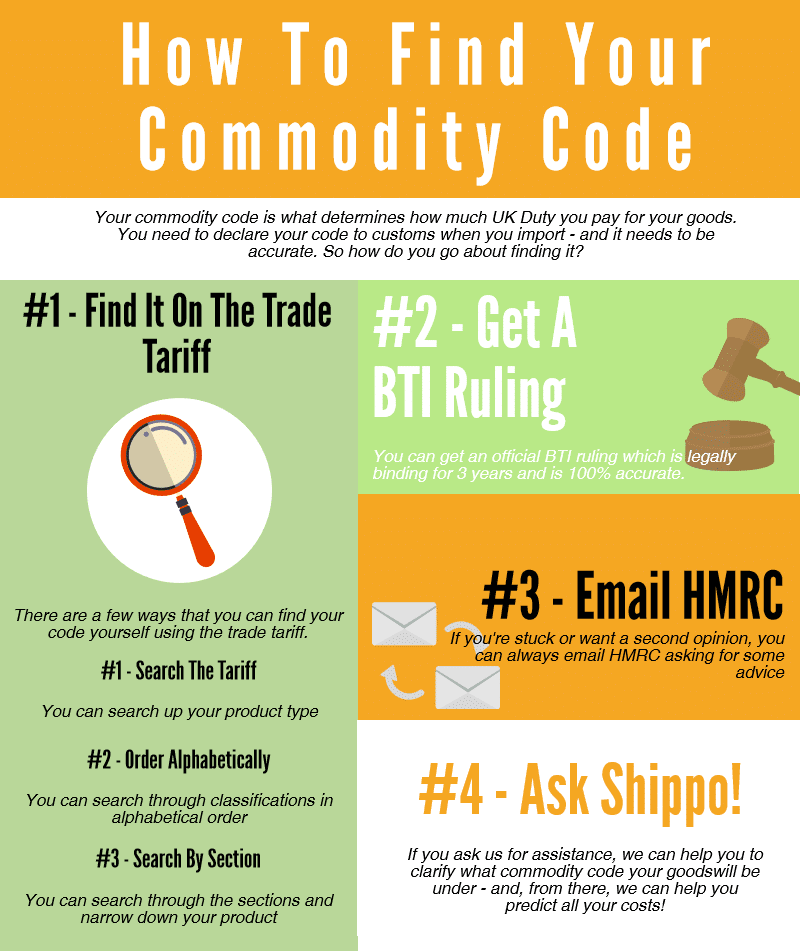 So now that you know all about what a commodity code is, we can get down to the point of this post – how do you find yours?
Well, there are two ways you can go about this – you could contact someone and ask them to classify your goods for you, or you could check the UK Trade Tariff and try to find your code yourself.

---
Shippo; UK Trade Tariff, Commodity Code UK, HMRC Commodity Codes, Find Commodity Code, Tariff Codes UK, trends
---
Searching for your code yourself?
If you do decide to find your commodity code yourself, you may find it helpful to read the product classification guides to help you on your way. You will need to search for your goods, so be prepared with:
what your product is (some products will be easy enough to find just based on what they are – for example: mattresses)
If you can't find your product's code based off what your product is, here are a few properties you should take note of to help you classify your goods:
what they're made from
how they work
how they're packaged (classify items in a set separately if they can be used individually, otherwise classify by the main item)
Now that you're armed with your weapons of mass classification, let's get to how we find codes:
If you're really lucky, you can just 'Search the tariff'!  Some people just insert their product type and are returned with a clearly correct category and code . . . if this is you, feel blessed because your life just got a whole lot easier! We like to call easy-to-find products like these "golden bullets".
You can also try searching the tariff alphabetically. While this may sound like an odd idea, having the tariff set out alphabetically allows you to scan items quickly and easily – and, if you're stuck for ideas on what your goods may classify as, this can be a good way to gain some ideas.
Go through the sections – this one is a real challenge as there's just so much to go through. To ensure that you aren't left scrabbling in the dark, we can help guide you through this method too. Here is how we'd go about it:
Click on the title of a main section; your goods should fall into one of these categories.
Each category has sub-sections – click on the most appropriate one
Even more sub-categories! You're getting closer – use the same principle to click through to the headings
Finally, you should have a list of options and associated codes ; be careful which you chose, look at the descriptions in bold first
Under the bold description, you may have one final option to choose exactly what type of product it is.
When you finally click through to the tariff code, there should be an overview for you to see the duty percentage.
When the code is not clear cut, we would suggest filling out the form at the bottom of the page and we'll pass it on to HMRC so they can send you a rating.
If you require any extra help, you can get assistance with classifying your goods by emailing classification.enquiries@hmrc.gsi.gov.uk.To receive help in finding an accurate commodity code, you will need to include certain information about your product that will help to classify it.
Your company and contact name along with your email address and phone number.
Country of origin.
A detailed description of the product
What the product is/does
What it's made of
How the product works/functions
How it is presented/packaged
Highlight which of the below two options best describes your item (so it's forwarded to the correct team):
Agricultural/Chemical/Textiles/Ceramics (including food, drink, plastics, cosmetics, sports equipment, games, toys, clothing, shoes).
Electrical/Mechanical/Miscellaneous (including vehicles, optical and measuring devices, machinery, musical instruments, metal, furniture, lighting, paper, printed matter, glass, wood, jewellery).
Apply for a classification ruling
However, if you want to be 100% certain, you can apply for a Binding Tariff Information (BTI) ruling. This is free – but you may have to pay costs such as laboratory analysis if classifying your goods requires it – and legally binding in the EU for three years. You can apply online following these steps:
Register for an EORI number if you don't already have one.
Sign up to use eBTI on the Government Gateway website.
Sign in to eBTI and fill in an application.
You can provide information about your goods and images to receive a ruling, but you can also include samples. If you're asking for a ruling on these items, you must provide a sample for:
That's all you need to know about finding your commodity code! Hopefully you found this post helpful and, if you want any help with your shipping, feel free to contact us!

---
Shippo; customs tariff code, commodity codes list, uk tariff codes, hs codes uk, commodity codes uk 2017, uk tariff, trends
---
Save
Save
Save
Save
Save