a little explainer video for sourcing products when #importing #smallbusiness https://t.co/uyyjD2Ymu9

— Shippo (@Shippo_uk) 26 September 2016
One of the key parts to running your own successful e-commerce business is sourcing your goods. Although this may sound like a straightforward task, a lot of importers will know first-hand that it can be incredibly difficult. There's finding a reliable supplier, making sure the goods are of a decent quality, getting them through customs – and somehow managing to do all of this in a decent time-frame without pulling your hair out. So we've decided to list down our Top 10 Sourcing Tips to help you find high quality products more easily.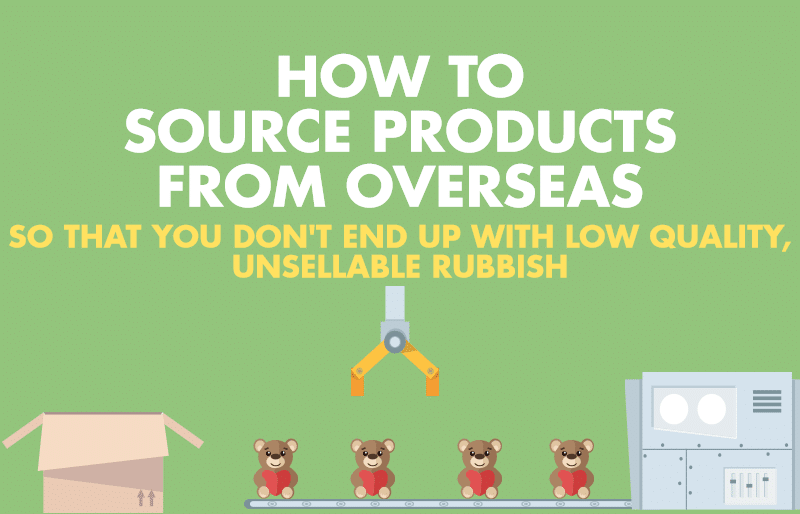 Save
Save
Save
Save
Save
Save
Save
Save
Save
Save
Save
Save
Save
Save
Save
Save
Save
Save
Save
Save
Save
Save
Save
How Do I Decide Which Products To Import?

You know you want to start an E-Commerce website; you know what platform you want to set it up on; you may even know what 5* hotel you're going to visit to celebrate when you make your first million. What you don't know are what products you're going to sell . . .

We can help you with that! When sourcing your products and deciding which goods are going to work for you, there are multiple things to take into consideration. We've shared with you a few of our essential tips to making sure your start-up stock is going to work for you.

1. The Product's Market

If the product will go out of fashion or you expect upgrades, act quickly and know your market

When placing an order from an overseas supplier, the first thing to think about is the product itself. A lot of products come and go due to extremely fast moving markets. If you order a product and ship it by sea freight, by the time the goods arrive six weeks later there may be reduced demand for the goods. It may be ideal to look at air freight for products like these, but this can only work if the margin is large enough as air freight can be rather expensive!

2. The Product's Size & Weight

Theoretically the perfect product is small and light to keep your shipping costs down

When importing products from overseas it's important to know the shipping cost to import each product. To keep this cost as low as possible importing products that don't take up a large amount of space is a good idea. Importing phone cases, for example, will cost a lot less to ship per item than rocking horses. Generally speaking, sea freight costs are calculated based on the space your goods will take up in a container, and air freight based on the weight of your product. If you plan to import heavy cargo, or goods that need a lot of space you have to ensure the figures add up. Clearly, if you are going to pay a large amount for shipping your margins must be higher. Don't forget, the shipping cost also has an impact on the VAT you will pay.

3. Check UK Duties & Taxes

Know all the costs you'll have to pay before you buy any product

Import duty & VAT can add a hefty amount onto your expenses, the figure could be anything up to 37% of the commercial value of your goods and that's before any possible anti-dumping fees. With VAT ranging from 0% to the standard 20% (reclaimable if you're VAT registered) and duty ranging from 0-17% you must make sure you are aware of your customs costs. They can easily be the deciding factor between an idea being viable or not.

Anti-dumping fees and other restrictions are implemented on certain products and can be huge. They are implemented to promote the use of domestic manufacturers and stop foreign exporters grossly undercutting the domestic market rate. Anti-dumping fees can exceed 100% of the commercial value of goods in extreme cases. Always check before placing any orders. Don't get caught out, you can use our Duty & VAT calculator absolutely free of charge.

4. The Lead Time

Ensure there is enough profit in a product if you need it urgently

When it comes to getting your idea to market, you will need to think about lead times of different products. If you are looking for a quick route to market, importing huge products could be expensive. They may take longer to make, and have to be shipped by sea even as a single sample. If your choice of product is a small phone case, it can be rustled up fairly quickly and be sent via courier to you in the post before you give the manufacturer the go ahead to 'mass produce'. This isn't to say not to look at bigger products, but if you are, planning well ahead is a good idea or alternatively ensuring there is a considerable margin in the product to make air freight a viable option for the sample at very least.

5. Savings

Spot the savings – When buying products from multiple suppliers, their locations can save you money

We are always looking for solutions to keep our customers importing costs down, and there are many that we have found. You can save money on imports by consolidating goods. If you have many suppliers in nearby areas you can have them all deliver goods to a port within a week of each other then ship and deliver the goods all together.

You can also save on Duty & VAT in some cases with certificates of origins or importing products as parts.

If you think any of these may be an option to you, contact us and we will be more than happy to advise.

6. Make Sure Your Product Will Clear UK Customs

Make sure your product doesn't break any Intellectual Property laws

One of the major issues when importing is knowing whether or not your goods will actually make it through Customs. Things as seemingly innocent as Tupperware containers and bath ducks are seized and destroyed (for incorrect type of plastic) – and when customs destroy your product or don't allow it into the country, it is very rare that you will see any money back. In fact, the only time you will is after you've paid to send your goods back to the supplier – and there's no guarantee that they'll refund you.

A large issue when importing from China is ordering goods with Intellectual Property on them. Most people aren't aware, but selling something with a brand character, name or logo on is illegal; if your supplier is selling Star Wars goods and you're importing them in time for Christmas, Customs is likely to hold them. (If you want to know more about Intellectual Property, read this.) We've already written a post dedicated to Making Sure Your Goods Can Get Through UK Customs, so give it a read.

With these tips in mind, you should have a much better idea of the kinds of goods you want to import. And, if you're brain hurts a little from all of this text, we've made a fun infographic showing you some worldwide shipping trends that you can look at before moving onto the next section.

Save

Save

Save

Save

Save

Save

Save

Save

Save

Save

Save

Save

Save

How Do I Choose A Supplier?

Now that you know what products you want to to import and sell on, you need to decide who is going to manufacture them. Now, this may seem easy – hey, you can just google "product name" and "wholesale", right?

Wrong.

There will likely be hundreds of manufacturers already making your product and it's up to you to find the one that's best. Some may have competitive prices, but no reviews. Some may have glowing reviews, but premium prices. Some may offer your product in another colour, but only have one stock photograph. Your supplier is the one who creates your goods; they are essential for your business. So it's vital that you pick the right one.

1. When Sourcing Products, Look At A Wholesale Marketplace

Finding a well-known wholesale website is much easier than going it alone and finding an individual manufacturer's site. If you are looking to source your goods, try common B2B marketplace sites like Alibaba and MadeInChina. The benefit to this is in their popularity; there's an extra layer of trust and reliability. These sites are heavily populated and well known, which means that they are more closely regulated. A feature of Alibaba that minimises risk is the money-back guarantee; if your goods do not arrive, or are significantly different to description, you can get your money back.

2. Read Other Customer Reviews


Another feature of popular sites such as these are that the large customer base forms a community aspect. They offer review systems which allow users to comment on their experience (positive or negative) and share images of their goods. This means that you can read other people's experiences with suppliers, which goes a long way towards avoiding dodgy manufacturers.

3. Make Sure It's A Reputable Company


Although not always possible, this is another reason that we recommend using marketplace platforms – a lot of information is available about the sellers that sign up to them; especially on reputable marketplaces. Remember, these sites need to retain their audience – so they don't want the merchants selling on there to drop below a certain standard.

Alibaba is a brilliant example of this; they offer a range of things you can check off against a supplier in your quest to determine their trustworthiness. These include:

On premise verification – this is literally just an on-site check. This means that Alibaba has gone to the premise of the supplier and verified that it is real and of a decent quality. They also do a company verification to confirm legal existence of that supplier.
Supplier Assessment – this is more rare, but is a third party assessment that Alibaba use wherein there is a detailed inspection that often includes financial data, images and even videos.
Amount of previous experience – you can see how many orders they have fulfilled and the average rating their customer leaves for them.
Necessary certifications – when importing certain goods, the products will need to be marked before they are allowed into the UK (if you want more information about this, read our post on Making Sure Your Goods Can Get Into The Country); you can see whether your supplier has provided these certificates and other quality checks.

It's important to determine that your manufacturer is reputable so that you don't receive goods that are of a sub-par standard.

4. If Possible, Order Samples First


Wherever you are sourcing your goods, try as hard as you possibly can to get samples first. This allows you to hold the product in your hand, test it and discern its quality. You may receive it and decide it's worth more than you were originally planning to sell it for, or less. Or you could receive the sample, be appalled at the quality and decide you definitely don't want to do further business with the supplier. Either way, it's always a lot better to know what you're getting before you purchase it – so try before you commit to buy.

5. Maintain A Good Relationship With Your Supplier


This is such an essential step that we've expanded it into it's own post. For information on how to understand Chinese business culture and avoid damaging your relationship with suppliers, we'd very much recommend you read it.

Maintaining a good relationship with your supplier is a good idea for multiple reasons – they control the quality of your product, the timeliness with which it is dispatched and whether or not you even receive it! Especially when dealing with foreign countries, the customs for trade can be extremely different. There is a brilliant article detailing this wherein an American buyer describes doing business with Taiwanese suppliers; he approaches them in the way he typically would in which the customer has the power and soon realises how completely wrong he is. This is something you may want to bear in mind when trading with overseas suppliers. The article is linked here.

6. Don't Just Buy On Lowest Price


Although you may instinctively want to use the supplier with the lowest price, usually the reason the price is so much lower than their competitors is because they're offering it at a lower quality or because there is something going on.

We hope you've found these sourcing tips helpful! Don't forget to share this post, subscribe to our newsletter and use us to get your goods into the country once you've purchased them!

---

Trending; eori eori uk, check eori

Save
Follow @Shippo_uk