Here at Shippo, we receive thousands of emails and phone calls requesting quotes – however, a large amount of people don't actually provide us with the information that we need to provide them with an accurate quote.
Today, we decided to dedicate a post to explaining how quotes are calculated and what you need to get an accurate sea freight quote.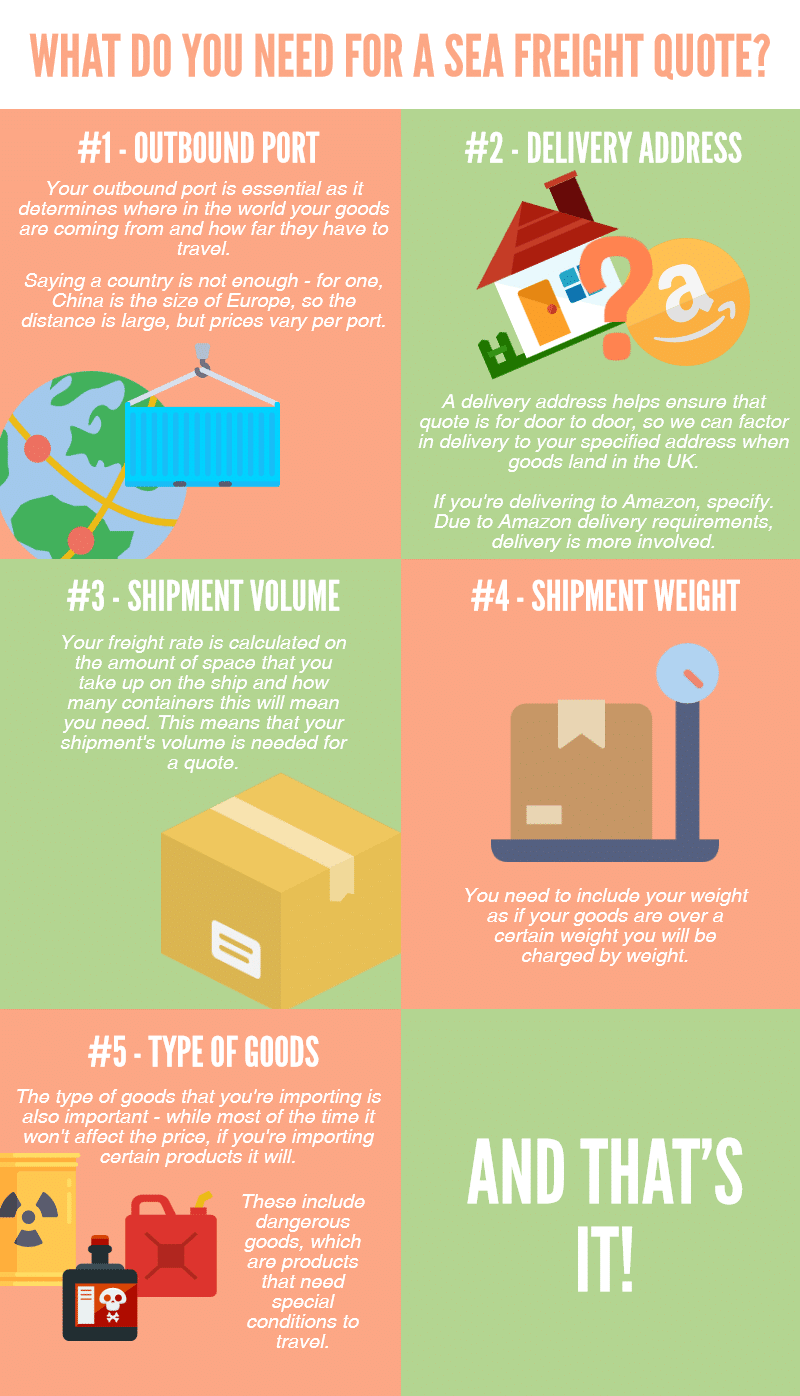 #1 – The Outbound Port
We've talked about why the price per port differs in detail before – however, many people don't quite understand the importance of including an outbound port in their quote request. Specifying a country isn't enough; especially if you're shipping from somewhere like China, which is the same size as Europe. As you can imagine, the price to ship goods from Spain is different than shipping from England, so due to the sheer geographical difference between ports you can understand why there can be a difference in price between them.
In addition to this, the size of the ports is a large factor – a larger port with the capacity for more vessels will be cheaper than a lesser-used one. Certain ports don't run a regular service to the UK, so additional "feeder" vessels will have to be used to get your goods to them before your goods can even be loaded onto the main vessel. All of these things affect your price, which is why it's so important to specify an outbound port in your quote request.
#2 – Delivery Address and Requirements
Here at Shippo, our quotes include delivery to your door, with no hidden fees. This means we factor in absolutely all foreseeable costs so that you know what it's going to cost you from the outset. In order to give you a full quote to your door (or other delivery location), we need to be able to work out how much your UK delivery is going to cost – which means that we need your delivery address.
NOTE
Although you don't need to worry too much about your delivery requirements yet, it can be helpful (especially if you're delivering to an Amazon FBA warehouse) to inform us early so we can factor that into the quote. Delivery requirements will only change the price by £20-£30 depending on if you need a tail-lift, timed delivery etc, so you can decide later.
The most pressing information at this stage is the delivery address – which area are your goods going to? As with the outbound port, there are many reasons that your delivery area affects your price – is it close to the port? Near a motorway? At the other end of the country? To give you a quote, we need to know where in the UK we're delivering to.
#3 – Shipment Volume
The main variable that affects your quote is your shipment's volume. This is because the volume of your goods (aka the amount of space that they're taking up on the ship) is usually what your sea freight rates are calculated using.
When requesting a quote, whether online, via email or over the phone, make sure to include your volume. You can either include the total volume, in cbm, or just send us the dimensions of your goods in the format of [ ?cm ] x [ ?cm ] x [ ?cm ].
#4 – Shipment Weight
However, it's also important that we have the weight of your shipment too.
This is because, in some cases, your shipment's weight will be used instead of your shipment's volume to calculate your freight rate. If the shipment's weight is greater than the volume of the goods, then the sea freight is calculated using this, so you'll need to be sure to include it in your quote request.
#5 – Type Of Goods
Although a lot of the time, the type of product has no effect on the price, some goods require different transportation. Dangerous goods especially will need to be transported a lot more carefully and have special conditions that need to be met. (This could include refrigerated containers, for example, which would cost more.) In addition to this, some goods will be more difficult to clear in the UK – and some you may not even be allowed!
It's important to include the type of goods that you're importing because there may be times where we'll need to adjust the price because of it.
Hopefully this post has helped you to understand what we require to provide you with an accurate quote – and why. If you are looking into sea-freight and you want a full, door-to-door quote with no hidden fees or nasty surprises, get a quote now!